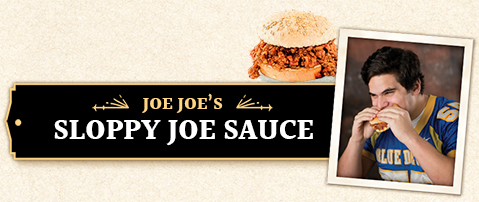 "A BLITZ OF SWEET AND SMOKY FLAVOR"
Our cousin Joe Joe can't get enough of this sweet and smoky flavor. After a long day delivering quarterback sacks or carving ruts on the ski slopes, he can only be tamed by a meaty sandwich like sloppy Joe, shredded chicken or bbq ham. Just don't get between Joe Joe and his sandwich.
Ingredients & Nutrition Facts
Tomato Puree (Water, Tomato Paste), Brown Sugar, Apple Cider Vinegar, Fresh Onions, Worcestershire Sauce (Distilled White Vinegar, Molasses, Sugar, Water, Salt, Onions, Anchovies, Garlic, Cloves, Tamarind Extract, Natural Flavorings, Chili Pepper Extract), Dijon Mustard (Distilled Vinegar, Water, #1 Grade Mustard Seed, Salt, Chardonnay Wine, Citric Acid, Tartaric Acid, Spices, Turmeric), Red Peppers, Salt, Celery, Green Peppers, Chili Powder, Smoked Paprika, Garlic, Chipotle Pepper, Xanthan Gum, Onion Powder, Red Pepper, Clove, Cumin, Cinnamon, Ginger. Allergen Alert: Contains Fish (Anchovies)
Buy Now!