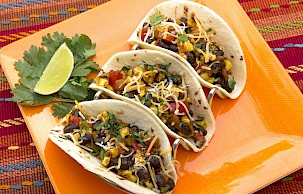 Roasted Corn and Black Bean Tacos
with Joe Joe's Sloppy Joe Sauce
Serves: 6
Low Carb
Quick to make
Vegetarian
Gluten Free
Ingredients
2 ears of corn
1 can black beans, drained and rinsed
½ cup bell peppers, diced
½ cup red onion, diced
3 Tbsp canola oil, divided
½ tsp salt
½ tsp pepper
½ tsp cumin
½ cup La Famiglia DelGrosso Joe Joe's Sloppy Joe Sauce
6 small flour or corn tortillas
1 lime
¼ cup shredded Mexican blend cheese
fresh cilantro for garnish
Notes
• Two ears of corn make approximately one cup of kernels. If you don't want to grill, you can boil the corn and cut it off the cob. For a shortcut, buy frozen or canned corn. Grill corn in large amounts in the summer and freeze to enjoy all year long.
• To make a quesadilla, follow the first five steps in the directions. Add ½ cup mixture to a tortilla, add 1 cup of shredded cheese, and place another tortilla on top. The outsides of both tortillas should be brushed with oil to help with browning. Cook on medium heat until cheese is melted. Serve with sour cream.
Directions
• Heat 1 Tbsp oil in medium pan and sauté peppers and onions on medium heat until they are soft.
• Brush 1 Tbsp oil on ears of corn and grill on medium/high heat until kernels begin to turn brown and soft, turning frequently. Let cool and cut kernels off the cobs.
• Add corn and black beans to pepper and onion mixture.
• Season with salt, pepper, and cumin and mix through.
• Add Sloppy Joe Sauce and mix ingredients together. Cook on low for 2 minutes. Remove from heat.
• Spoon a ½ cup of the mixture into each taco and add lime juice, shredded cheese, and fresh cilantro.