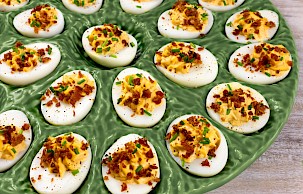 Deviled Eggs
with Joe Joe's Sloppy Joe Sauce
Serves: 12
Low Carb"
Quick to make
Vegetarian
"> Gluten Free
Ingredients
1 dozen eggs
¼ cup mayonnaise
1 tsp Dijon mustard
1 Tbsp La Famiglia DelGrosso Joe Joe's Sloppy Joe Sauce
2 tsp freshly squeezed lime juice
¾ tsp salt
½ tsp pepper
4 slices cooked bacon, chopped
fresh chives for garnish, chopped
Notes:
If you do not have a pastry bag for piping, you can place the mixture into a small zip lock bag, cut a small hole in one corner, and squeeze the ingredients out. Try a variety of toppings such as crumbled blue cheese, smoked salmon, capers, olives, or chopped pickles. Experiment with different garnishes such as fresh dill, chives, or chopped green onion.
Directions
Place eggs in a saucepan in a single layer and cover with cold water. Heat on high until water boils. Remove from heat and let covered for 9 minutes.
Transfer eggs to an ice bath for 5 minutes.
Crack eggs and peel, then gently dry with a paper towel.
Slice the eggs in half lengthwise, remove the yolks and transfer to a medium bowl.
Place the sliced white eggs on a platter and set aside.
Mash the egg yolks using a fork until they are a crumbly consistency.
Add mayonnaise, mustard, sloppy joe sauce, and lime juice. Mix well.
Season with salt and pepper and mix through.
Pipe mixture into the eggs and garnish with crumbled bacon and chopped chives.