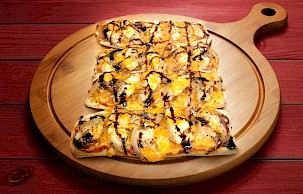 BBQ Chicken French Bread Pizza
with Joe Joe's Sloppy Joe Sauce
Serves: 4-6
"
">
Ingredients
1 French baguette
1 cup La Famiglia DelGrosso Joe Joe's Sloppy Joe Sauce
3 Tbsp olive oil, divided
2 pieces boneless, skinless chicken breasts
½ large sweet onion, sliced thin
1 ¾ cups Colby Jack cheese, shredded
Montreal steak seasoning to taste
Balsamic glaze to taste
The amount of chicken you need should equal approximately 1 ½ cups when sliced. Experiment with different cheeses such as mozzarella, cheddar, or crumbled blue cheese. Pizzas can be made ahead and stored in the refrigerator until ready to bake.
Directions
Pre-heat oven to 425 degrees.
Heat 2 Tbsp of olive oil in medium skillet. Season chicken with Montreal steak seasoning and cook until no longer pink. Let cool then slice into small strips.
Heat 1 Tbsp of olive oil in small skillet and sauté onions until caramelized.  
Slice baguette into three pieces, then slice open each piece to make six pieces total.
Spoon sloppy joe sauce onto each piece of bread.
Top with shredded cheese, chicken, and onions, then finish with more cheese on the top.
Bake on a tray for 10-12 minutes until cheese is bubbly and golden brown.
Remove from oven. Slice each piece into smaller pieces.
Place pizza slices on a serving platter and drizzle with balsamic glaze.