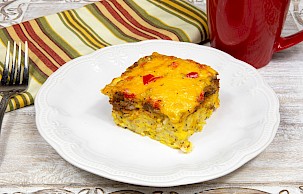 Breakfast Casserole
with Joe Joe's Sloppy Joe Sauce
Serves: 10-12
"
">
Ingredients
24 oz bag hash browns, thawed
3 Tbsp olive oil
3 ½ tsp salt
2 tsp pepper
1 lb. pork sausage
½ cup La Famiglia DelGrosso Joe Joe's Sloppy Joe Sauce
½ cup sweet onion, chopped
½ cup red bell pepper, chopped
10 eggs
1 ½ cups milk
2 tsp Dijon mustard
2 cups shredded cheddar cheese
1 Tbsp butter
This casserole can be prepared the night before and stored in the refrigerator then baked the next morning. Experiment with different cheeses such as jack, swiss, gouda, or gruyere.  For a low-carb option, omit the layer of hash browns.  
Directions
Pre-heat oven to 350 degrees.
Grease a 9x13 baking dish with butter.
Cook half the hash browns in 1.5 Tbsp olive oil on medium-high heat until golden. Season with 1 tsp of salt and ½ tsp of pepper.
Spread cooked hash browns in buttered casserole dish and repeat above process with second half of the hash browns. Spoon into casserole dish and distribute evenly.
Cook sausage in large skillet on medium-high until no longer pink. Drain fat and pour sausage back into skillet. Add sloppy joe sauce and mix through.
Pour sausage over the hash browns, then sprinkle the onions and peppers evenly over the sausage.
In large bowl, whisk together 10 eggs, milk, Dijon mustard, 1.5 tsp of salt and 1 tsp of pepper. Add cheese and continue to whisk until well-blended. Pour over casserole.
Bake uncovered for 55 minutes.
Let rest for 10 minutes and serve with a side of sliced avocado or a bowl of fruit.