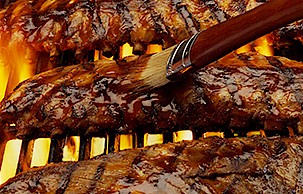 Joe Joe's Baby Back Ribs
with Joe Joe's Sloppy Joe Sauce
Serves: 4
Low Carb
Quick to make
Vegetarian
Gluten Free
Ingredients
3 pounds baby back ribs
1 Tbsp garlic powder
1 Tbsp paprika
- Salt and pepper to taste
¼ cup La Famiglia DelGrosso Joe Joe's Sloppy Joe Sauce 
Notes:
Instead of basting the sloppy joe sauce while grilling, ribs can be served dry and sloppy joe sauce can be used for dipping. For spicier ribs, add cayenne pepper to the seasoning. 
Directions
• Preheat a gas grill on high heat, or arrange charcoal on one side of your barbecue.
• Season ribs with salt and pepper to taste, garlic powder, and paprika on both sides.
• Lay the ribs on top of the grill and close the lid.
• Grill ribs for 25 minutes then flip to cook other side. Grill 25 more minutes or until ribs are no longer pink.
• Brush top side of ribs with the sloppy joe sauce and grill for an additional 5 minutes.
• Cut between each rib bone and serve.