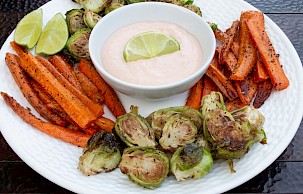 Chipotle Lime Aioli
with Joe Joe's Sloppy Joe Sauce
Serves: 6
Low Carb"
Quick to make
Vegetarian
"> Gluten Free
Ingredients
• 1 cup mayonnaise
• 1/4 cup La Famiglia DelGrosso Joe Joe's Sloppy Joe Sauce
• 3-4 cloves garlic, pressed
• 2 Tbsp fresh lime juice
For the Roasted Vegetables:
• 1 pound Brussels sprouts, cut into wedges
• 1 pound carrots, cut into sticks
• 4 Tbsp olive oil
• Montreal Steak Seasoning to taste
Notes:
Joe Joe's Sloppy Joe Sauce has chipotle peppers as a main ingredient, hence the name, Chipotle Lime Aioli. Use it as a dip for raw veggies or sweet potato fries, as a spread on your favorite burger or wrap, or add more lime juice or water to thin it down and drizzle over grilled shrimp. For a healthier version, use half mayo and half Greek yogurt.
Directions
• Pre-heat oven to 450 degrees.
• Mix mayonnaise, sloppy joe sauce, garlic, and lime juice together until smooth and creamy. Set aside.
• Place Brussels sprouts and carrots in a bowl, add olive oil, and toss to coat. Spread out on a baking sheet, then season with Montreal Steak Seasoning.
• Roast in oven for 20 minutes until golden brown and crispy.
• Serve with chipotle lime aioli for dipping.