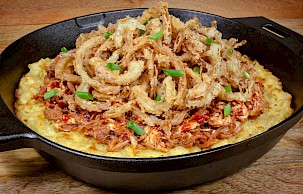 Mac & Cheese Skillet
with Joe Joe's Sloppy Joe Sauce
Serves: 6
"
">
Ingredients
8 ounces elbow macaroni
4 Tbsp butter
¼ cup flour
1 ¼ cups half and half
1 ¼ cups whole milk
1 ¼ cups shredded cheddar cheese
1 ¼ cups shredded gruyere cheese
¾ tsp salt
¼ tsp pepper
¼ tsp cayenne pepper
3 cups pulled pork or chicken
½ cup La Famiglia DelGrosso Joe Joe's Sloppy Joe Sauce
For the crispy onions:
1 cup buttermilk
1 cup flour
1 large sweet onion, sliced
Salt and pepper to taste
Pinch of cayenne pepper
Oil for frying
Green onion slices for garnish
If you want creamier mac & cheese, omit baking or bake less. Try other cheeses such as fontina, havarti, or smoked gouda
Directions
Pre-heat oven to 350 degrees.
Cook macaroni according to package directions.
In a large saucepan, melt butter over medium heat. Whisk in ¼ cup of flour. Season with salt, pepper, and cayenne. Cook for one minute, continually stirring.
Gradually whisk in whole milk and half and half.  Increase the heat to medium-high and bring the mixture to a boil, stirring continuously until it thickens.
Remove from heat. Stir in cheese until melted.
Drain macaroni, add to cheese mixture, and stir through.
Pour macaroni and cheese into a cast iron skillet and bake for 30-35 minutes until bubbly and golden brown on top.
Heat oil in small pot on high heat.
Pour buttermilk into a bowl and add sliced onions.
Place flour in a bowl and season with salt, pepper, and cayenne.
Working in small batches, dredge onions in flour then fry in oil until golden brown.
Mix pulled pork or chicken with sloppy joe sauce in a small pot and warm on low heat.
When macaroni and cheese is done, top with meat and crispy onions.
Garnish with the green part of green onions and serve.