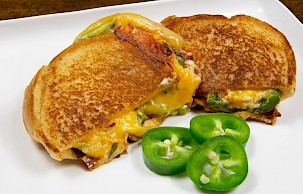 Jalepeño Popper Grilled Cheese
with Joe Joe's Sloppy Joe Sauce
Serves: 4
"
">
Ingredients
4 jalepeñe peppers
2 oz cream cheese, softened
2 Tbsp green onion, sliced
½ cup shredded Colby jack cheese
8 slices of your favorite bread
4 Tbsp butter, softened
4 slices Havarti cheese
8 slices cheddar cheese
6 slices thick-cut bacon, cut in half
¼ cup La Famiglia DelGrosso Joe Joe's Sloppy Joe Sauce
- salt and pepper to taste
Instead of baking the peppers stuffed with the cheese mixture, you can chop the peppers and mix them with the cheeses then bake as a dip. This dip can be spread on the bread as one of the layers. The bacon can also be cut into pieces then mixed with the sauce. Try a variety of cheeses such as smoked gouda, fontina, or pepper jack.
Directions
Pre-heat oven to 400 degrees.
Slice jalapeño peppers lengthwise and remove seeds.
In a small bowl, mix together cream cheese, green onion, and Colby jack cheese until well-blended.
Fill each pepper with cheese mixture, season with salt and pepper, then bake for 15 minutes until peppers and cheese are slightly browned. Let cool, then slice each pepper into four pieces. 
Cook bacon until slightly crisp, then brush both sides with sloppy joe sauce.
Butter one side of four pieces of bread and place face down in two large skillets.
Place one slice of Havarti cheese and one slice of cheddar on each piece of bread.
Place three half slices of bacon on top of cheese followed by eight pieces of pepper on each, then top with another slice of cheddar cheese.
Butter the remaining four pieces of bread and place butter side up on top of each sandwich.
Place lid on skillets. Cook on medium heat until bread is golden brown and cheese begins to melt, then flip over. Reduce heat to medium-low and cook for 2-3 more minutes.
Cut each sandwich in half and serve.