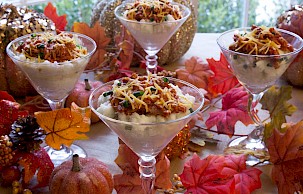 Turkeytinis
with Joe Joe's Sloppy Joe Sauce
Serves: 8
Low Carb
Quick to make
Vegetarian
Gluten Free
Ingredients
• 4 cups leftover mashed potatoes
• 2 cups leftover turkey, shredded
• 1 jar La Famiglia DelGrosso Joe Joe's Sloppy Joe Sauce
• 1/2 cup shredded cheddar cheese
• 1/4 cup green onions, sliced
• 8 4oz. martini glasses
Notes
* This is a fun and easy way to serve holiday leftovers! Provide additional toppings such as filling, corn, sour cream, and bacon bits, and create a mashed potato bar where guests serve themselves.
Directions
• Mix turkey and Joe Joe's Sloppy Joe Sauce in small pot over medium heat.
• Heat mashed potatoes in microwave until warm.
• Place 1/2 cup of mashed potatoes in each martini glass.
• Spoon 1/4 cup of turkey over the mashed potatoes.
• Garnish with shredded cheddar cheese and green onions.