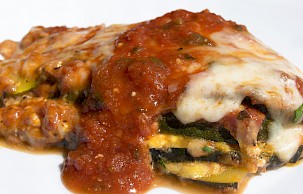 Zucchini Lasagna
with Chef John's Tomato Basil Masterpiece
Serves: 8
Low Carb"
Quick to make
Vegetarian
"> Gluten Free
Ingredients
2 large zucchini
16 oz ricotta cheese
2 eggs beaten
2 Tbsp fresh parsley, chopped
1 tsp dried basil
1 tsp salt
½ tsp pepper
½ cup grated Parmesan cheese
3 cups shredded mozzarella cheese
1 jar La Famiglia DelGrosso Chef John's Tomato Basil Masterpiece
Notes
Depending on the size of the zucchini, you may have to lay one full zucchini strip with a half of zucchini strip beside it. They should not overlap because it will be too thick in those areas. To make consistent sized strips, use a mandolin to slice zucchini.
Directions
• Preheat oven to 350 degrees.
• Combine ricotta, eggs, parsley, basil, salt and pepper, and mix thoroughly. 
• Slice zucchini lengthwise into thin strips by standing it up and cutting in a downward direction, leaving the skin on.
• In a 9x13 baking dish, pour enough sauce to cover the bottom.
• Place one layer of zucchini strips in the bottom of the pan, making sure not to overlap.
• Spread a small amount of ricotta cheese mixture over the zucchini, add sauce and smooth over the cheese, then sprinkle with Parmesan and mozzarella cheese.
• Repeat the previous two steps until you have completed three layers.
• Cover with foil and bake approximately 40 minutes.
• Remove from oven and let the lasagna rest for 20 minutes before serving.