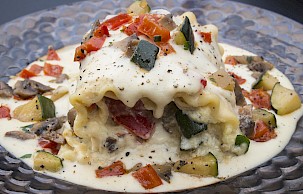 Veggie Alfredo Lasagna Rolls
with Aunt Linda's Classic Alfredo Sauce
Serves: 8
"
">
Ingredients
16 oz ricotta cheese
2 eggs, beaten
2 Tbsp fresh parsley, chopped
2 tsp dried basil
1 tsp salt
½ tsp pepper
½ cup grated Parmesan cheese
2 cups shredded mozzarella cheese
8 lasagna noodles, cooked and drained
2 cups red pepper, chopped
2 cups zucchini, chopped
2 cups mushrooms, chopped
Montreal Steak Seasoning to taste
2 Tbsp canola oil
1 Tbsp butter
1 jar La Famiglia DelGrosso Aunt Linda's Classic Alfredo Sauce
Notes
Instead of filling and rolling one lasagna noodle at a time, you can fill all 8 lasagna rolls before you roll them up in case you have to make ingredient adjustments. For added nutrients, try spinach.
Directions
• Preheat oven to 350 degrees.
• Combine ricotta, eggs, parsley, basil, salt and pepper, and mix thoroughly until well blended.
• Heat a large sauté pan on medium heat and add oil and butter.
• Season mushrooms, zucchini, and red peppers with Montreal Steak Seasoning and sauté until vegetables are soft. 
• Heat Alfredo sauce in a small pot on low.
• Lay cooked lasagna noodles on a flat surface.
• Pour Alfredo sauce in bottom of a 9x13 baking dish, just enough to coat the bottom of the pan.
• Spread a small amount of ricotta cheese mixture over one lasagna noodle, sprinkle with Parmesan and mozzarella cheeses, add vegetables, and roll up like a pinwheel. Repeat for a total of 8 lasagna rolls, reserving extra vegetables to go on top after baking.
• Place lasagna rolls in your baking dish, seam side down. Cover with the rest of the sauce.
• Cover with foil and bake for 40 minutes.
• Remove from oven and add the rest of the sautéed vegetables on top of each lasagna roll.