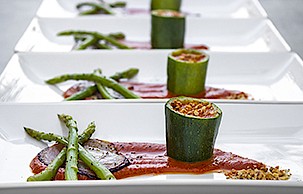 Vegetable Medley Romesco
with Aunt Mary Ann's Sunday Marinara
Serves: 4
Low Carb"
Quick to make
Vegetarian
"> Gluten Free
Ingredients
for the sauce: 
1 jar La Famiglia DelGrosso Aunt Mary Ann's Sunday Marinara
1 red bell pepper
1 head of garlic
1 tsp olive oil
⅓ cup hazelnuts
2 tsp sherry vinegar
for the Vegetable Medley: 
1 small zucchini
12 asparagus spears
8 sweet onion wedges
2 tsp olive oil
2 Tbsp chopped hazelnuts for garnish
- and pepper to taste
Notes:
Leftover sauce can be stored in refrigerator for two weeks and can be served over pasta or fish.
Directions
for the sauce:
• Cut the top off a head of garlic, peel the white outer layer, drizzle with 1 tsp olive oil, wrap in foil, and roast on a tray in oven at 400 degrees for 30 minutes.
• Roast the red pepper until all sides are black by grilling, broiling, or placing directly on flame on stove top. Turn frequently. Place in glass bowl, cover, let cool, and remove skin and seeds. Place in blender and puree.
• Toast hazelnuts in a small skillet on medium heat for 10 minutes. Place in a kitchen towel, rub vigorously to remove the skin and add to the blender. 
• Remove garlic from oven, let cool, and squeeze the cloves into the blender. 
• Add sauce to the blender and puree all ingredients until smooth and creamy.
• Add sherry and blend through.
for the vegetables:
• Cut zucchini into four 2 inch pieces and stand them up. Scoop out the flesh by cutting around the edge with a knife then remove flesh with a spoon, leaving a small amount of flesh in the bottom.
• Sauté onion wedges in 2 tsp of oil on medium heat until carmelized.
• Add zucchini to boiling water and blanch for 4 minutes. Remove and place in ice water.
• Add asparagus spears to boiling water and blanch for 2 ½ minutes. Remove and place in ice water.
• Remove zucchini and asparagus from ice water, pat dry, and season with salt and pepper to taste. 
• Serve vegetables on individual plates by painting the bottom of each plate with a spoonful of sauce.
• Place the zucchini cups on each plate and fill with sauce. 
• Place two onion wedges beside the zucchini cup, and place three asparagus spears on top of onions.
• Garnish plate with chopped hazelnuts.