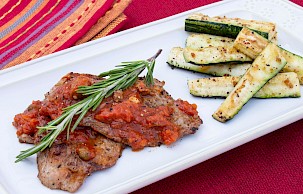 Veal Cutlet Puttanesca
with Uncle Jim's Late Night Puttanesca
Serves: 2
Low Carb"
Quick to make
Vegetarian
"> Gluten Free
Ingredients
• 4 pieces veal cutlet sliced thin, approximately 12 oz.
• 2 Tbsp olive oil
• 2 Tbsp butter
• 2 sprigs rosemary
• 2 sprigs thyme
• ½ small lemon, juiced
• 1 cup La Famiglia DelGrosso Uncle Jim's Late Night Puttanesca
• salt and pepper to taste
Notes:
Basting is a technique used to pour liquid or fat over meat to keep it moist and add flavor. When the butter melts, tilt the skillet at an angle so the butter and oil collect in one place. Use the spoon to scoop up the butter and spoon it over the meat. Do this several times then allow the butter and oil to spread evenly over the skillet under the meat. Repeat this process several times during the cooking process. You can substitute veal for chicken or pork cutlets.
Directions
• Heat puttanesca sauce in small pot on medium-low heat.
• Heat large skillet on medium-high heat.
• Add olive oil, butter, and herbs to the skillet and stir to infuse.
• Season veal cutlets with salt and pepper.
• Cook veal cutlets for 1-2 minutes while basting butter and oil over the veal with a small spoon.
• Turn veal cutlets over, add lemon juice, and cook for an additional 1-2 minutes while continuing to baste.
• Remove from heat.
• Place veal cutlets on a plate and spoon puttanesca sauce over the top. Serve with your favorite vegetable or pasta.