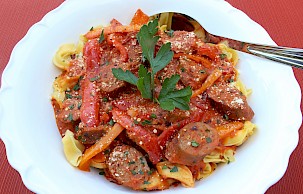 Uncle Joe's Quattro Formaggio Tortellini
with Uncle Joe's Vodka Celebration
Serves: 6
"
">
Ingredients
1 pound sweet Italian sausage links
1 red bell pepper, cut into ¼ inch strips
1 orange bell pepper, cut into ¼ inch strips
5 Tbsp olive oil, divided
1 jar La Famiglia DelGrosso Uncle Joe's Vodka Celebration
¼ cup heavy cream
1 20 oz package refrigerated four cheese tortellini
½ tsp crushed red pepper flakes (optional)
¼ cup grated Pecorino Romano cheese
• Uncle Joe loves to top this dish with Grana Padano cheese. If you cannot find it in your store, grated Pecorino Romano cheese is a great substitute. You can also add other vegetables to this dish such as mushrooms or zucchini.
Directions
• Heat medium skillet with 3 Tbsp of olive oil and cook sausage links. Brown on all sides until sausage is cooked thoroughly and set aside.
• Add remaining olive oil to the skillet and cook red and orange peppers until tender, approximately 5 minutes. Set aside.
• In medium pot add one jar of Uncle Joe's Vodka Celebration and ¼ cup of heavy cream. Heat until sauce mixture is warm.
• Cook tortellini according to package directions.
• While tortellini is cooking, slice sausage into 1 inch pieces and add to the sauce. Add peppers and stir through. Simmer for 5 minutes.
• Drain pasta and add to your favorite pasta bowl. Pour sauce, sausage, and peppers over the tortellini.
• Add crushed red pepper flakes for a little heat and top with grated
Pecorino Romano cheese.