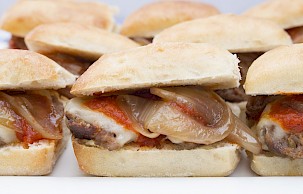 Sweet Sausage Sliders
with Chef John's Tomato Basil Masterpiece
Serves: 8
"
">
Ingredients
• 1 pound sweet Italian sausage
• ½ large onion
• 2 tsp canola oil
• 1 Tbsp balsamic glaze
• 8 slices mozzarella cheese
• 1 cup La Famiglia DelGrosso Chef John's Tomato Basil Masterpiece
• 16 slider rolls
Notes
Balsamic glaze is balsamic vinegar that has been reduced, therefore is thicker and sweeter. It can be found in stores with the balsamic vinegars or you can make your own. If you want spicy sausage sliders, use hot Italian sausage and Uncle Fred's Fireworks Sauce. Try adding sautéed peppers and mushrooms to the onions for added color and flavor.
Directions
• On medium heat, brown sausage on all sides and continue cooking until no longer pink.
• Slice onion into rings and then cut rings in half. Sauté in oil on medium heat until soft and caramelized.
• Add balsamic glaze to the onions and mix through. Remove from heat.
• Heat tomato basil sauce in a small pot on medium-low heat.
• When sausage is cooked, remove from heat, let cool, then cut into ½ inch pieces on a diagonal.
• Cut slices of mozzarella cheese in half and set aside.
• Arrange pieces of sausage in groups of three in a large pan.
• Place a half piece of cheese over each group of sausage pieces, and melt the cheese on medium heat.
• When cheese is melted, lift each group of three sausages out of the pan and place on a slider roll. Top each sausage slider with tomato basil sauce and balsamic glazed onions.
•  Serve with chips and your favorite tailgating beverage.