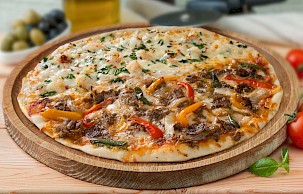 Super Bowl Split
with Pappy Fred's Old Style Pizza Sauce
Serves: 4
"
">
Ingredients
• 12 oz. pizza dough
• 4 oz. beef sirloin, thinly sliced
• ¼ cup red bell pepper, thinly sliced
• ¼ cup green bell pepper, thinly sliced
• ½ cup onion, thinly sliced
• ¼ cup La Famiglia DelGrosso Pappy Fred's Old Style Pizza Sauce
• 2 cups shredded mozzarella
• 2 4 oz. lobster tails
• 2 Tbsp butter
• ¼ cup La Famiglia DelGrosso Aunt Linda's Classic Alfredo Sauce
• 1 cup spinach, chopped
• Montreal steak seasoning to taste
• crushed red pepper flakes to taste
• salt, pepper, and granulated garlic to taste
Notes
*This Super Bowl Split pizza pays tribute to the Philadelphia Eagles and New England Patriots competing in Super Bowl LII. If lobster tails are not available, you can use canned lobster. Ask your local butcher to thinly slice beef sirloin, or you can purchase frozen steak already sliced.
Directions
• Pre-heat oven to 425 degrees.
• Roll out dough and place on pizza stone or baking sheet. Set aside.
• Season beef sirloin with salt, pepper, and granulated garlic and cook in small skillet over medium heat until browned. Break steak into small pieces while cooking.
• Sauté peppers and onions in separate skillet on medium heat until soft. Season with Montreal steak seasoning.
• To prepare lobster tails, use kitchen shears to cut lengthwise through the center of the top shell to expose flesh.
• Bring 6 quarts of salted water to a boil, add lobster tails, and simmer for 8-10 minutes.
• Remove lobster tails from water, let cool, and remove pieces of lobster.
• Melt butter in a small skillet on medium heat and toss lobster pieces in butter until well-coated.
• Pour pizza sauce on half the dough and spread to edge of crust. Repeat with other half using Alfredo sauce.
• Sprinkle mozzarella cheese on entire pizza.
• Place steak, peppers, and onions on pizza sauce side.
• Place lobster and spinach on Alfredo sauce side. Top with crushed red pepper flakes.
• Bake at 425 minutes for 13-15 minutes until cheese is melted and crust is golden brown.