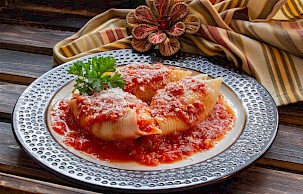 Stuffed Shells
with Chef John's Tomato Basil Masterpiece
Serves: 6-8
"
">
Ingredients
• 20 jumbo shells, uncooked
• 2 cups ricotta cheese
• 2 eggs
• 1 cup shredded mozzarella cheese
• ½ cup plus 2 Tbsp grated Parmesan cheese
• 3 Tbsp chopped fresh parsley
• 3 Tbsp chopped fresh basil
• ½ tsp salt
• ½ tsp pepper
• 1 jar La Famiglia DelGrosso Chef John's Tomato Basil Masterpiece
Notes
Add three or four extra shells to your boiling water in case some break during the cooking process. When cooling, separate shells to prevent them from sticking together. If using dried parsley and basil, use 1 Tbsp of each.
Directions
• Heat oven to 350 degrees.
• Cook shells according to package directions, drain, and set aside.
• Combine ricotta, eggs, parsley, basil, salt, and pepper in a mixer on medium speed until smooth. Add mozzarella and ½ cup of the Parmesan cheese until well-blended.
• Pour ½ cup of sauce and spread evenly on bottom of 9x13 baking dish.
• Fill each cooked shell with approximately 2 tablespoons of cheese mixture then place on sauce.
• Pour remaining sauce over stuffed shells and then sprinkle Parmesan cheese on top. Cover and bake for 45 minutes.
• Serve with La Famiglia DelGrosso Grandma Murf's Italian Style Meatballs or your favorite side dish.