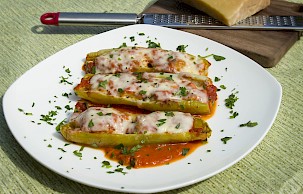 Uncle Joe's Ricotta Stuffed Peppers
with Uncle Joe's Vodka Celebration
Serves: 10
Low Carb"
Quick to make
Vegetarian
"> Gluten Free
Ingredients
• 2 Tbsp olive oil
• 8 large Hungarian wax peppers
• 8 oz whole milk ricotta cheese
• 1 pound hot Italian ground sausage
• 1 jar La Famiglia DelGrosso Uncle Joe's Vodka Celebration
• 8 slices of Asiago cheese, cut in half
Notes:
Hungarian wax peppers are hot, and banana peppers are mild, but because the two are so similar in appearance, Hungarian wax peppers are often called hot banana peppers. Experiment with a variety of peppers for heat levels, flavor, and color. You can also substitute sweet Italian sausage for hot. Asiago cheese can be sliced at the deli in your supermarket, or you can buy a block of Asiago cheese and shred or grate to top this dish. Try different cheeses such as provolone, Fontina, or mozzarella.
Directions
• Pre-heat oven to 350 degrees.
• Cut peppers in half lengthwise, core and remove seeds.
• Mix ricotta cheese and sausage together in mixing bowl until well-blended.
• Stuff pepper halves with ricotta and sausage mixture.
• Use the olive oil to coat the bottom of a 9x13 baking pan then place stuffed peppers in pan, meat-side up.
• Bake stuffed peppers for 30 minutes.
• Remove from oven and pour Uncle Joe's Vodka Celebration sauce over peppers.
• Place peppers back in oven and bake for an additional 30 minutes.
• Add Asiago cheese on top of peppers and bake an additional 5-10 minutes until cheese is melted.
• Remove from oven and let cool before serving.