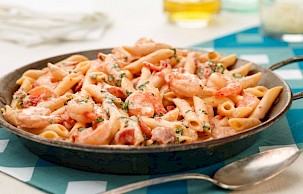 Shrimp a la Vodka
with Uncle Joe's Vodka Celebration
Serves: 6
"
">
Ingredients
1 (12oz) Penne pasta
1 lb of peeled and deveined shrimp (16-20 count)
1 clove garlic, finely chopped
1 tablespoon hot pepper flakes
1 (26 oz) jar Uncle Joe¹s Vodka Celebration
6 tablespoons olive oil
Directions
Heat oil in large skillet over medium heat, sauté shrimp in 2 separate batches, 1 minute on each side.
Remove shrimp and set aside.
Add garlic to same skillet, lightly brown.
Add Uncle Joe¹s Vodka Celebration sauce, cook for 5 minutes.
Add shrimp and pepper flakes.
Cook for 10 minutes and pour over cooked penne pasta.