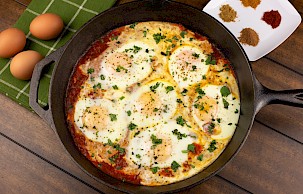 Shakshuka
with Aunt Cindy's Roasted Garlic Gala
Serves: 4
Low Carb"
Quick to make
Vegetarian
"> Gluten Free
Ingredients
• 1 jar La Famiglia DelGrosso Aunt Cindy's Roasted Garlic Gala Sauce
• ½ tsp cumin
• ½ tsp nutmeg
• ½ tsp paprika
• ¼ tsp cayenne pepper
• 6 eggs
• Salt and pepper to taste
• Chopped cilantro for garnish
*Notes
Shakshuka is a Middle Eastern and North African dish of eggs poached in tomato sauce that can be enjoyed for breakfast, lunch, or dinner. For added color and flavor, add feta cheese.
Directions
• Pre-heat oven to 375 degrees.
• Heat sauce in an oven-safe skillet.
• Add spices and stir through.
• Crack six eggs on top of the sauce, then season with salt and pepper.
• Place skillet in the oven and bake for 8 minutes until eggs are cooked.
• Garnish with fresh cilantro and serve.