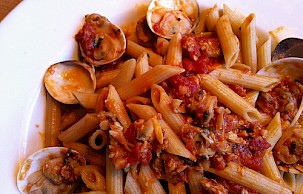 Roasted Garlic Pasta Paella
with Aunt Cindy's Roasted Garlic Gala
Serves: 4
Low Carb
Quick to make
Vegetarian
Gluten Free
Ingredients
1 medium onion
3 garlic cloves
4 tablespoons olive oil
1/2 lb. hot Italian sausage, loose
1/2 cup dry white wine
12 little neck clams
8 oz. penne pasta, cooked and drained
1 (26 oz.) jar Aunt Cindy's Roasted Garlic Gala
Directions
• Mince garlic and cut onion into 1/4" dice.
• In a heavy kettle heat the olive oil over medium heat, add onions and garlic.  
• Sauté for two minutes, stirring often - do not brown.  
• Add the sausage and sauté while breaking up the sausage until well browned.  
• Add the white wine, Roasted Garlic Gala sauce, and simmer uncovered for about 10 minutes while the sauce thickens.  
• Add clams and cover pot with a lid, cooking until clams open.  
• Stir in cooked pasta and serve.