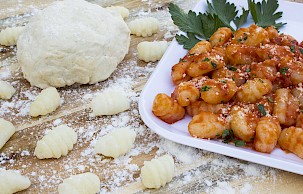 Ricotta Gnocchi
with Uncle Joe's Vodka Celebration
Serves: 8
"
">
Ingredients
• 2 pounds ricotta cheese
• 3 1/3 cups flour, plus more for dusting
• 3 Tbsp heavy cream
• ¼ cup grated Parmesan cheese, plus more for garnishing
• 2 tsp salt
• ¼ tsp grated nutmeg
• 2 jars La Famiglia DelGrosso Uncle Joe's Vodka Celebration Sauce
Notes
*Traditional gnocchi is made with potatoes; using ricotta cheese makes the gnocchi very light and airy. Making the ridges with the fork is optional. You can freeze uncooked gnocchi by placing individual pieces on a tray and freezing for an hour, then remove and place in a freezer baggie. Individually quick-freezing the gnocchi prevents them from sticking together in the bag.
Directions
• In a large mixing bowl, combine ricotta cheese, flour, cream, Parmesan cheese, salt and nutmeg until well-mixed.
• Form into a large dough ball, cover, and chill for one hour.
• Heat Uncle Joe's Vodka Celebration sauce in a pot on low heat.
• Sprinkle flour onto the counter.
• Take a handful of dough and roll into snake-like shapes on the flour, about ¾ inch in diameter.
• Using a knife, cut dough into one inch pieces.
• If necessary, sprinkle extra flour on the pieces after they are cut to prevent them from sticking together.
• Repeat the previous three steps until all the dough is cut.
• To prepare to shape the gnocchi, sprinkle the tines of a fork with flour. Hold the fork in one hand and the gnocchi in the other.
• Place the gnocchi against the tines of the fork, press in, and roll the gnocchi all the way down the tines of the fork to the other end. This will make beautiful ridges in the gnocchi.
• Cook the gnocchi in salted, boiling water in small batches until they float (approximately two minutes).
• Remove them from the water and place in the pot of vodka sauce.
• Continue cooking in small batches until all the gnocchi is cooked and placed in the pot of sauce.
• Garnish with grated Parmesan cheese and serve.