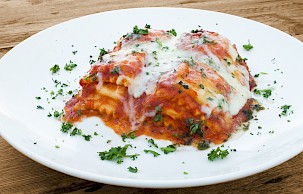 Ravioli Lasagna
with Uncle Joe's Vodka Celebration
Serves: 4-6
"
">
Ingredients
• 1.5 pound bag frozen cheese ravioli
• 1 jar La Famiglia DelGrosso Uncle Joe's Vodka Celebration
• ¼ cup water
• ½ cup grated Parmesan cheese
• 3 cups shredded mozzarella cheese
*Notes
It's important to give the dish time to rest before serving, so the ravioli stays together in the shape of lasagna. Try a variety of ravioli fillings such as mushroom, crab, or lobster. You can make this a "meat lover's lasagna" by adding ground beef and sausage to the layers or by using beef-filled ravioli.
Directions
• Pour sauce into a small pot and heat on medium heat. Add ¼ cup of water to the jar, tighten lid, and shake. Pour excess sauce and water into the pot.
• Spoon ¼ cup of pasta sauce in a 9x9 baking dish to cover the bottom.
• Place a single layer of frozen ravioli in the dish.
• Add 1 cup of sauce to cover the ravioli, and top with 1/3 of the Parmesan cheese then 1/3 of the mozzarella cheese.
• Repeat this process two more times.
• Cover with aluminum foil and bake at 350 degrees for one hour.
• Allow 20 minutes for ravioli lasagna to cool before serving.