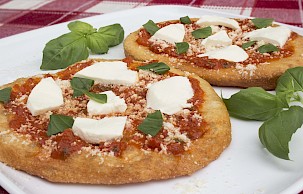 Pizza Fritta (Fried Pizza)
with Pappy Fred's Old Style Pizza Sauce
Serves: 4
"
">
Ingredients
• 1 pound pizza dough, divided into four round balls
• ¼ cup flour
• 3 cups sunflower oil
• 1 cup La Famiglia DelGrosso Pappy Fred's Old Style Pizza Sauce
• ¼ cup grated Parmesan cheese
• 4 oz fresh mozzarella, cut into small pieces
• 16 fresh basil leaves, cut into small piece
Notes
If you do not have a thermometer you can test by placing a small piece of dough into the oil. If it bubbles immediately, it's ready. A skimmer strainer is a flat, sieve-like spoon with holes. Try different toppings such as crumbled sausage, olives, or ricotta cheese. For a deep fried calzone, place toppings on one disc, cover with a second disc and seal the edges. Drop in hot oil and cook both sides until golden brown.
Directions
• Heat oil in a 10-12 inch deep pan on medium-high heat until oil reaches approximately 375 degrees.
• Heat pizza sauce in a small pot on low heat.
• Sprinkle flour on both sides of each dough ball and roll out into 7 inch discs.
• Place one disc into the hot oil and immediately place a metal skimmer strainer in the middle of the disc to keep it submerged in the oil.
• If bubbles begin to appear in the dough, gently press down with the metal strainer to flatten.
• Cook until bottom of dough is golden brown (approximately 45 seconds) then flip over with tongs.
• Place strainer in the middle of the dough and cook until the other side is golden brown.
• Remove with tongs and lay on a paper towel to absorb excess oil.
• Repeat with remaining three pieces of dough.
• To assemble each pizza, spoon sauce and spread to outer edges, sprinkle with Parmesan cheese, add fresh mozzarella, and top with basil.