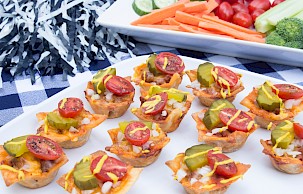 Pizza Burger Bites
with Pappy Fred's Old Style Pizza Sauce
Serves: 12
"
">
Ingredients
• 16 oz. pizza dough
• ¼ cup flour
• 1 lb. ground beef
• 1 cup La Famiglia DelGrosso Pappy Fred's Old Style Pizza Sauce
• 1 cup shredded mozzarella cheese
• 1 cup shredded cheddar cheese
• 18 grape tomatoes
• 18 hamburger pickle chips
• ½ cup finely chopped onions
• yellow mustard to taste
• salt and pepper to taste
*Notes
Ground turkey, chicken, or sausage can be substituted for beef. Try a variety of toppings such as peppers, mushrooms, or crumbled bacon. Try different cheeses such as provolone, feta, goat, or blue cheese. Make a hamburger topping bar, where guests can assemble their own toppings.
Directions
• Pre-heat oven to 375 degrees.
• In a medium skillet, season ground beef with salt and pepper. Cook until no longer pink, drain the fat, and return the beef to the skillet.
• Add pizza sauce to the beef, mix through, and cook on low for 10 minutes. Set aside.
• Slice tomatoes in half lengthwise, and season with salt and pepper. Set aside.
• Cut pickles in half and set aside.
• Sprinkle counter top with flour and roll out dough in a rectangular shape. Cut dough into 36 pieces, 2x2 inches each.
• Prepare a mini-muffin tin with cooking spray, and place dough squares inside each section. Gently push down in center of each piece of dough and around the sides.
• Spoon approximately 1 tablespoon of beef into each cup, and top with both kinds of cheese.
• Bake for 13 minutes or until golden brown.
• Let cool for 5 minutes, then remove each cup from muffin tin and place on a large tray.
• Top each cup with a pickle, tomato, and onions. Drizzle with mustard.
• Transfer pizza burger bites to a serving platter and enjoy.