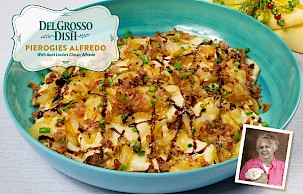 Pierogies Alfredo
with Aunt Linda's Classic Alfredo Sauce
Serves: 4
"
">
Ingredients
2 pounds potato and onion pierogies
1 large sweet onion, sliced
4 Tbsp butter
4 slices bacon, cooked and chopped
1 jar La Famiglia DelGrosso Aunt Linda's Classic Alfredo Sauce
¼ cup water
balsamic glaze to taste
Fresh chives for garnish, chopped
If you prefer your pierogies soft versus crispy, you can skip the fourth step and transfer directly from the boiling water to the pan of Alfredo sauce.
Directions
Pour Alfredo sauce into a large skillet. Add ¼ cup of water to the empty jar, place lid back on, and shake. Pour excess Alfredo sauce into the pan. Heat on low heat.
In a separate large skillet melt butter on medium high heat and sauté onions until caramelized.
In a large pot cook pierogies in boiling water.
Working in several batches, remove cooked pierogies from the pot and transfer to the hot skillet with onions. Crisp the edges of the pierogies for 30 seconds on each side.
Transfer pierogies into pan of Alfredo sauce.
Continue to sauté onions until they are a golden brown.
Transfer pierogies to four dinner plates and pour any additional sauce onto each plate.
Spoon caramelized onions over each plate of pierogies then drizzle with balsamic glaze.
Top with chopped bacon and chives.