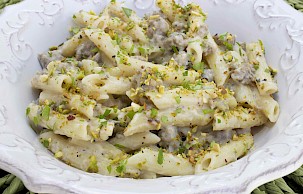 Penne Alfredo with Crushed Pistachios
with Aunt Linda's Classic Alfredo Sauce
Serves: 4
Low Carb
Quick to make
Vegetarian
Gluten Free
Ingredients
8 oz penne pasta
1 tsp salt
1 lb ground pork sausage
1 Tbsp olive oil
2 Tbsp fresh rosemary, chopped
1 jar La Famiglia DelGrosso Aunt Linda's Classic Alfredo Sauce
¼ cup shelled pistachios, finely chopped
fresh parsley, finely chopped for garnish
Notes
Most people throw pasta water down the drain, but using some of the pasta water helps to bind the sauce to the pasta, which improves flavor and texture. Plain pork sausage is used in this dish, but you can try hot or sweet Italian sausage for added flavor. You can substitute chopped almonds or hazelnuts for pistachios. Try sautéed mushrooms or peppers for added color and flavor.
Directions
• Bring three quarts of water to a boil, add the salt and pasta, then cook until al dente, approximately 5-6 minutes.
• Heat oil in a medium-sized pan and add sausage.
• Break up the sausage into small pieces and cook until no longer pink.
• Add chopped rosemary to the sausage, mix through, and remove from heat.
• When pasta is finished, use a skimmer strainer to scoop up the pasta and add to the rosemary sausage.
• Add one cup of the pasta water to the pasta and sausage and mix through.
• Add the Alfredo sauce and stir until well-blended. Cook for 2 minutes.
• Serve pasta into four bowls and top with chopped pistachios.
• Garnish with fresh parsley.