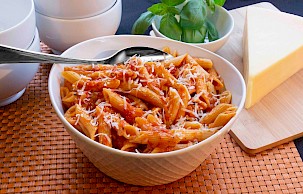 Pasta Risottata
with Aunt Mary Ann's Sunday Marinara
Serves: 2-3
"
">
Ingredients
• 3 cups chicken broth
• 1 cup sweet onion, chopped
• 2 Tbsp olive oil
• 8 oz penne pasta, uncooked
• ½ cup dry white wine
• 1 ½ cups La Famiglia DelGrosso Aunt Mary Ann's Sunday Marinara Sauce
• ¼ cup grated Parmesan cheese
• salt and pepper to taste
*Notes
Pasta Risottata is a dish prepared using the cooking method for risotto instead of boiling water. This technique allows the pasta to be infused with the flavors of the onions, wine, and chicken broth.
Directions
• Heat chicken broth in small pot on medium-low heat.
• In a large skillet, sauté onions in olive oil over medium heat. Season with salt and pepper.
• Add pasta and stir through until pasta is glossy and coated with oil. Cook for 2 minutes, stirring frequently.
• Add wine and stir through. Cook for 2 minutes until wine is evaporated.
• Ladle one cup of chicken broth into the skillet, stirring and cooking until most of the broth is evaporated. Repeat this step with remaining two cups of broth.
• When the pasta reaches al dente (firm to the bite), add the marinara sauce. Stir and cook for 1-2 minutes until heated through.
• Add Parmesan cheese and serve.