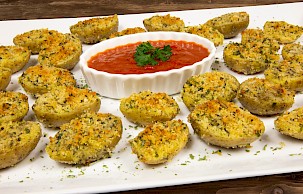 Parmesan Potato Bites
with Pappy Fred's Old Style Pizza Sauce
Serves: 6
"
">
Ingredients
24 oz bag baby gold potatoes
4 Tbsp butter, divided
2 tsp fresh rosemary, chopped
1/3 cup Italian seasoned Panko
1/3 cup grated Parmesan cheese
2 Tbsp fresh parsley
1 tsp salt
½ tsp pepper
½ cup La Famiglia DelGrosso Pappy Fred's Old Style Pizza Sauce
It is important to allow the potatoes to cool and dry a little before slicing so they keep their shape. Do not use utensils to toss ingredients to prevent the potatoes from mashing. Simply toss them in the air while holding onto the bottom of the bowl.
Directions
Pre-heat oven to 425 degrees.
Cook potatoes in boiling water for 20 minutes until fork tender.
Drain and let cool for 10 minutes, then slice in half.
Pour panko in a small bowl, add fresh parsley and mix through.
Melt 1 Tbsp of butter in a small skillet, then add panko. Toast on medium heat for less than 2 minutes until crispy, stirring constantly to prevent burning. Set aside.
Melt 3 Tbsp of butter in a large bowl.
Place cooked potatoes in melted butter and gently toss.
Season with salt and pepper then add fresh rosemary. Toss again.
Add parmesan cheese and panko then toss again to evenly coat.
Place potatoes on a baking sheet skin side down. Press any excess topping on the potatoes. Roast for 10 minutes.
Heat pizza sauce in a small pot on medium-low heat.
Remove potatoes from oven when topping is golden brown and serve on a platter with a small bowl of pizza sauce for dipping.