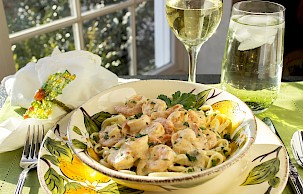 Lemon Shrimp Alfredo
with Aunt Linda's Classic Alfredo Sauce
Serves: 4
"
">
Ingredients
1 1/2 pounds of raw shrimp peeled
Zest and juice of one lemon
2 cloves of garlic chopped or pressed
1/2 tsp crushed red pepper flakes
3 Tbsp chopped fresh parsley
1 Tbsp Italian seasoned bread crumbs
2 Tbsp butter, divided
1 Tbsp olive oil
1 jar of La Famiglia DelGrosso Aunt Linda's Classic Alfredo
1 pound of linguini
For a gluten free dish, use gluten free breadcrumbs - serve as a side dish to steak or fish.
For an appetizer, place 2 pieces of shrimp on a sliced baguette.
For shrimp alfredo pizza, pour shrimp in the sauce on a ready made pizza crust and add shredded mozzarella cheese. Bake at 400 degrees for 10 minutes.
Directions
 Place shrimp in a glass bowl.

Add the zest and juice of the lemon to the shrimp.

Press or chop the garlic and add to the bowl.

Add red pepper flakes, parsley, and bread crumbs.

Melt one tablespoon of the butter and add to the shrimp and mix thoroughly.

Cover with plastic wrap and marinate in the refrigerator for one hour.

Cook linguini according to package directions.

Heat alfredo sauce on medium-low heat.

Heat 1 tablespoon of butter and olive oil in a saute pan.

Place shrimp in hot pan and cook for 2- 3 minutes on medium heat until the shrimp turn pink, turning shrimp half way through.

Add the alfredo sauce to the shrimp and stir.

Drain the linguini and place in a bowl, pour shrimp alfredo over the pasta.

Toss and serve.