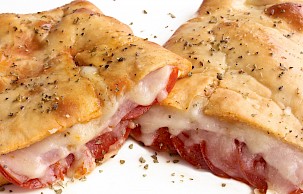 Laguna Splash Stromboli
with Pappy Fred's Old Style Pizza Sauce
Serves: 1-2
"
">
Ingredients
1 8 oz pizza dough ball
½ cup shredded mozzarella
½ cup shredded provolone
½ cup La Famiglia DelGrosso Pappy Fred's Old Style Pizza Sauce, divided
2 slices ham
16 slices pepperoni
1 Tbsp melted butter
Salt, pepper, and garlic powder to taste
Dried oregano to taste
Notes
For a Vegetarian Stromboli, replace the ham and pepperoni with your favorite vegetables and swap the pepperoni flavored sauce for a meatless sauce. If you don't have pizza sauce, try a variety of our La Famiglia DelGrosso Pasta Sauces on the Stromboli, such as Roasted Garlic Gala, Tomato Basil Masterpiece, or Sunday Marianara.
Directions
• Pre-heat oven to 450 degrees.
• Grease a baking sheet.
• Roll out dough to an oval approximately 10 inches long and 8 inches wide. Transfer to baking sheet.
• Spread the mozzarella and provolone cheeses on the bottom half of the dough, leaving a one inch border around the cheese.
• Drizzle ¼ cup pizza sauce over the cheese, staying inside the one inch borders.
• Season with salt, pepper, and garlic powder.
• Layer ham over the sauce.
• Layer pepperoni over the ham.
• Mist the one inch borders around the Stromboli ingredients with water.
• Fold the top half of the dough over to the bottom edge and press to seal.
• Make a two inch slice in the top of the dough.
• Bake at 450 degrees for 12-15 minutes or until golden brown.
• Brush the Stromboli with melted butter and season with garlic powder and oregano.
• Serve with the remaining pizza sauce.