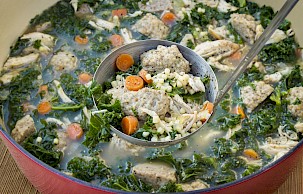 Italian Wedding Soup
with
Serves: 12
Low Carb"
Quick to make
Vegetarian
"> Gluten Free
Ingredients
½ cup diced onions
½ cup diced celery
½ cup diced carrots
5 cloves garlic, minced
2 Tbsp olive oil
½ Tbsp dried Italian seasoning
5 quarts chicken stock
1 bag (12 meatballs) La Famiglia DelGrosso Grandma Murf's Italian Style Meatballs, cut into fourths.
2 cups shredded chicken breast
1 pound kale rinsed, drained, and coarsely chopped
1 cup acini de pepe pasta (uncooked) or other tiny pasta
4 Tbsp grated Parmesan cheese
Salt and pepper to taste
Notes
Kale can be substituted with escarole/endive. This recipe can be adapted by whisking together 4 eggs with 4 Tablespoons of Parmesan cheese and slowly stirring into the soup as it is simmering, allowing egg to cook on top of the broth, then breaking up the cooked egg with a fork while it cooks.
Directions
• In a large stockpot cook onions, celery, and carrots in olive oil over medium heat until soft. Season with salt and pepper to taste.
• Add garlic and cook additional two minutes.
• Add Italian seasoning and chicken stock, then bring to a boil.
• Reduce heat to simmer and add meatballs, shredded chicken, kale, and pasta.
• Simmer for 30 minutes, allowing pasta to cook and flavors to "marry".
• Ladle soup into bowls and top each serving with grated Parmesan cheese.