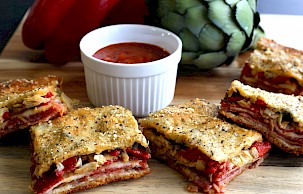 Italian Tailgate Squares
with Aunt Mary Ann's Sunday Marinara
Serves: 10
Low Carb
Quick to make
Vegetarian
Gluten Free
Ingredients
• 2 8 oz cans crescent dough sheets
• 8 slices mozzarella cheese
• 8 slices provolone cheese
• 8 slices capicola ham
• 8 slices Genoa salami
• 12 slices pepperoni
• 14 oz can artichoke hearts, drained and chopped
• 10 oz jar roasted red peppers, drained and chopped
• 2 oz can sliced black olives
• Italian seasoning to taste
• Garlic powder to taste
• Pepper to taste
• 1 egg white, beaten
• 2 Tbsp grated Pecorino Romano cheese
• 1 cup La Famiglia DelGrosso Aunt Mary Ann's Sunday Marinara
Notes:
*If you use crescent rolls instead of the sheets, be sure to seal the perforated edges. Experiment with other cheeses such as cheddar, Gouda, or feta cheese. You may use other vegetables, such as sun-dried tomatoes or caramelized onions. Instead of using sauce for dipping, add the sauce inside the squares.
Directions
• Pre-heat oven to 350 degrees.
• Grease a 9x13 baking dish.
• Unroll one package of crescent dough sheets and press into pan. Cover bottom of pan and 2/3 up the sides of the pan.
• Place the slices of mozzarella cheese on top of the dough, and continue layering with ham, salami, provolone cheese, and pepperoni.
• Top with artichoke hearts, roasted red peppers, and olives.
• Season with pepper, garlic powder, and Italian seasoning.
• Unroll second crescent dough sheet and place on top of vegetable layer. Press the dough to the sides of the pan to seal.
• Brush the dough with egg white and sprinkle with Pecorino Romano cheese and Italian seasoning.
• Cover with foil and bake at 350 degrees for 30 minutes. Remove foil, and bake an additional 20 minutes until dough is golden brown.
• Heat sauce on medium heat. Set aside.
• Remove Italian tailgate squares from oven, and let cool for 15 minutes. Cut into small squares and serve with sauce for dipping.