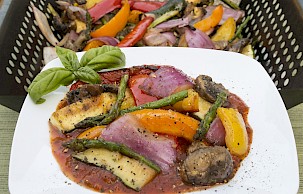 Grilled Vegetables Puttanesca
with Uncle Jim's Late Night Puttanesca
Serves: 8
Low Carb"
Quick to make
Vegetarian
"> Gluten Free
Ingredients
• 1 red bell pepper
• 1 orange bell pepper
• 1 yellow bell pepper
• 1 bunch asparagus
• 2 red onions
• 2 medium-sized zucchini
• 16 ounces whole white mushrooms
• 4 Tbsp canola oil
• Montreal Steak seasoning to taste
• Fresh ground black pepper to taste
• 1 jar La Famiglia DelGrosso Uncle Jim's Late Puttanesca
If you have two grill woks, you can grill side by side to reduce cooking time. Instead of grilling, you can roast the vegetables in the oven at 400 degrees. Asparagus will cook faster than the other vegetables if the spears are thin, so it's important to get thicker spears. 
Directions
• Cut peppers into strips.
• Remove tough ends of asparagus, then cut into thirds.
• Cut onions into wedges.
• Cut zucchini into strips.
• Cut mushrooms in half.
• Place all vegetables on a tray, drizzle oil over vegetables and season to taste. Toss vegetables until oil and seasoning is evenly distributed.
• Place half of the vegetables in a grill wok and grill on medium heat with the cover closed.
• Toss vegetables occasionally to evenly roast.
• When vegetables are soft and nicely browned, remove from wok and roast second batch.
• When second batch is browned, add first batch to wok to reheat and grill vegetables for 1-2 minutes.
• Heat Uncle Jim's Late Night Puttanesca Sauce in a small pot on medium-low heat.
• Place small amount of sauce on bottom of each plate, and serve vegetables on top of the sauce.
• Season with fresh cracked black pepper to taste and garnish with fresh basil or parsley.
• Serve as a first course, or as a side dish with grilled chicken, fish, or steak.