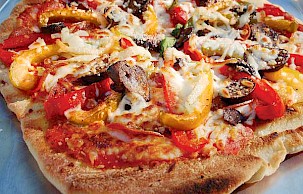 Grilled Vegetable Pizza
with Pappy Fred's Old Style Pizza Sauce
Serves: 6
Low Carb
Quick to make
Vegetarian
Gluten Free
Ingredients
Makes Two 12" Pizzas:
1 red onion
1 sweet yellow pepper
2 cups shitake mushrooms
4 tablespoons of olive oil
salt and pepper to taste
2 12" rolled pizza crusts (store bought or homemade)
1 (13.5 oz.) jar Pappy Fred's Old Style Pizza Sauce
2 cups mozzarella cheese
Notes
Alternatively, this recipe can be prepared in a conventional oven
Directions
• Preheat outdoor grill to medium-high.  
• After washing vegetables and cutting into thin strips, place on a tray, drizzle olive oil over the vegetables, and sprinkle with salt and pepper to taste.  
• Transfer vegetables to a grill tray with holes or a grill wok and place on the grill.  
• Close the lid and grill vegetables, stirring every five minutes until they turn slightly brown and soft.  
• Remove vegetables from grill then brush grill with olive oil to prevent pizza dough from sticking.  
• Turn grill to high.  Grill one side of each crust for 4-5 minutes, until lightly charred.
• Flip and immediately apply 1/2 jar of Pappy Fred's Old Style Pizza Sauce, mozzarella cheese, and grilled vegetables to each crust.  
• Close the lid and cook until cheese is thoroughly melted.