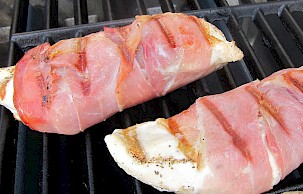 Grilled Prosciutto Wrapped Chicken
with Aunt Mary Ann's Sunday Marinara
Serves: 6
"
">
Ingredients
6 slices of prosciutto di Parma
6 boneless skinless chicken breasts, pounded to 1/4" thickness, seasoned with salt and pepper
6 slices of provolone cheese
6 fresh whole basil leaves
1 (26 oz.) jar Aunt Mary Ann's Sunday Marinara
wooden toothpicks
Directions
Preheat grill on medium-low heat.  
Place a sheet of plastic wrap on counter.  
Place one slice of prosciutto on plastic wrap.  
Lay one piece of chicken on top of prosciutto.  
Spread a layer of Aunt Mary Ann's Sunday Marinara sauce onto the chicken followed by the provolone and basil.
Roll up prosciutto-wrapped chicken, securing with a toothpick. Repeat with remaining ingredients.  
Place prosciutto-wrapped chicken on grill until prosciutto is crisped and the chicken is cooked through, approximately 20 minutes.