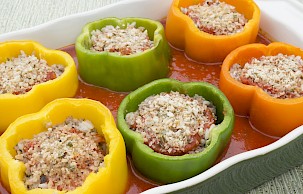 Grandma Murf's Stuffed Peppers
with Uncle Fred's Fireworks Sauce
Serves: 6
"
">
Ingredients
• 2 each orange, yellow and green bell peppers
• 1 pound ground beef
• ¼ cup diced onions
• ¾ cup cooked white rice
• ¼ cup Italian seasoned breadcrumbs
• 2 jars La Famiglia DelGrosso Uncle Fred's Fireworks Sauce
• salt and pepper to taste
Notes
Three colors are used for the peppers for variety, but you can use the same color. For added flavor, top peppers with grated Parmesan cheese. If you would like a less spicy sauce, try marinara or tomato basil. You can cut peppers in half by cutting through the stem, lay peppers down in baking pan, then fill and bake. Leave stems on for presentation.
Directions
• Core each pepper by cutting off the tops and removing the seeds.
• Mix together the ground beef, rice, onions, salt and pepper in a bowl.
• Stuff each pepper with the mixture and place in a casserole dish.
• Pour both jars of Uncle Fred's Fireworks Sauce around the peppers and lightly top each one with sauce.
• Cover with a lid and bake at 325 degrees for 1 hour.
• Remove from oven and top each pepper with breadcrumbs.
• Return peppers to oven and bake for an additional 30-60 minutes covered until peppers are soft.
• Remove from oven and let rest for 15 minutes before serving.