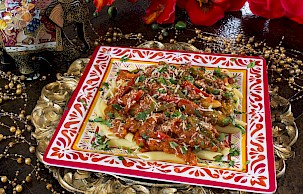 Fusion Pasta
with Uncle Fred's Fireworks Sauce
Serves: 2
"
">
Ingredients
• 2 Tbsp oil
• 1 cup red bell pepper, julienned
• 1 cup green bell pepper, julienned
• 2 Tbsp ginger paste
• 2 Tbsp garlic paste
• 2 cups La Famiglia DelGrosso Uncle Fred's Fireworks Sauce
• 1 tsp mango powder
• 3 cups cooked penne pasta
• ¼ cup fresh cilantro, chopped
• freshly grated Parmesan cheese, to taste
Notes
*This dish was created by Hamir Patel, owner and executive chef at Hamir's Indian Fusion in York, PA. Garlic and ginger pastes can be found in the fresh herb section of most grocery stores. You can also make your own by mixing garlic or ginger with water to make a paste. Mango powder is a citrusy seasoning made from dried unripe mangoes and can be found in the Asian section of most supermarkets, or at an Indian grocery store.
Directions
• Sauté peppers in oil on medium-high heat until soft.
• Add ginger and garlic paste, stir through, and cook for 30 seconds.
• Add fireworks sauce and mango powder, stir through and cook for one minute.
• Pour sauce and peppers over pasta then garnish with cilantro.
• Top with freshly grated Parmesan cheese.