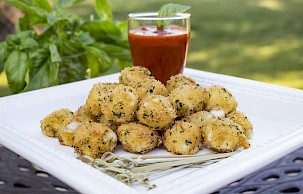 Fried Mozzarella
with Aunt Mary Ann's Sunday Marinara
Serves: 6
"
">
Ingredients
8 oz fresh mozzarella balls
1/3 cup all-purpose flour
2 eggs
1 cup Italian seasoned panko
1 Tbsp fresh basil, chopped
1 Tbsp fresh thyme, chopped
¼ tsp granulated garlic
3 cups sunflower oil or canola oil
½ cup La Famiglia DelGrosso Aunt Mary Ann's Sunday Marinara
salt and pepper to taste
Notes
If the fried mozzarella turns dark brown in the first 15 seconds, the oil is too hot. They should turn golden brown in 45 seconds to one minute. Dark brown is overcooked. The panko you buy should already be seasoned, but the garlic, fresh basil and thyme adds more flavor and color. You can add other herbs to the panko such as parsley, fennel, or tarragon. If you want a spicy panko, you can add cayenne pepper or red pepper flakes. You can buy plain panko and create your own seasoning.
Directions
• In a small saucepan, heat oil over medium heat until temperature reaches 325 degrees.
• Set up three bowls for your dipping station.
• Place flour in the first bowl and season with salt and pepper.
• Crack the eggs and place into a second bowl and whisk. Season with salt and pepper.
• Pour the Italian seasoned panko in the third bowl. Add fresh basil, thyme, and granulated garlic and mix through.
• Working with three mozzarella balls at a time, dredge in flour and shake off excess, then coat in the egg and roll in panko. Press the panko to adhere to the mozzarella balls.
• Drop six mozzarella balls into the oil until golden brown (45 seconds to one minute)
• Transfer fried mozzarella to a paper towel using a slotted spoon.
• Repeat steps 6-8 for remaining mozzarella balls.
• Serve with skewers and marinara sauce for dipping.