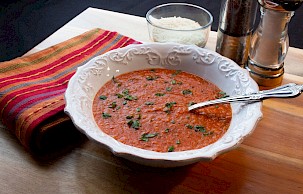 Finizio Tomato Bean Soup
with Chef John's Tomato Basil Masterpiece
Serves: 2-3
Low Carb"
Quick to make
Vegetarian
"> Gluten Free
Ingredients
• 15 oz. can cannellini beans
• 1 clove garlic, diced
• 2 Tbsp olive oil
• 1 jar La Famiglia DelGrosso Chef John's Tomato Basil Masterpiece
• 1 tsp onion powder
• 6 Tbsp grated Parmesan cheese, divided
• 1 cup water
• 1 tsp salt
• 1/2 tsp pepper
• 4-5 fresh basil leaves, chopped
*Notes
Our friend Barbara Finizio from Florida shared this delicious, healthy, and easy-to-make soup recipe. As an alternative to pureeing the beans, keep them whole to change the texture of the soup. 
Directions
• Drain and rinse the cannellini beans. Set aside.
• Sauté the garlic in olive oil on medium heat until golden.  
• In a blender combine tomato basil sauce, onion powder, 3 tablespoons grated cheese, water, salt, pepper, cannellini beans, and sautéed garlic and olive oil into a blender.  Blend until you reach a creamy consistency.  
• Pour into a small pot and heat on medium-low.
• Serve in soup bowls, top with remaining cheese, and garnish with fresh basil.