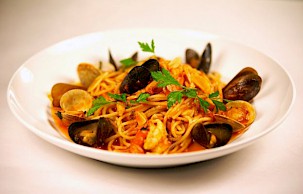 Clam & Mussels with Tomato Basil Cream Sauce
with Chef John's Tomato Basil Masterpiece
Serves: 4-6
Low Carb
Quick to make
Vegetarian
Gluten Free
Ingredients
1/2 cup white wine
1 garlic clove chopped
2 lbs. mussels
1 lb. littleneck clams
1 (26 oz) jar Chef John¹s Tomato Basil Masterpiece
2 tablespoons olive oil
1 lb. angel hair pasta, cooked
Directions
• Scrub the clams and mussels.
• Heat olive oil in a large saucepan.
• Add the chopped garlic and cook slowly ­ do not brown.
• Add the white wine and let it come to a boil.
• Add the mussels and clams; cover and cook a few minutes until the mussels and clams open.
• Remove mussels and clams from saucepan, saving the liquid. Discard any mussels or clams that have not opened.
• Strain the liquid. Heat Chef John¹s Tomato Basil Masterpiece and add strained liquid to it.
• Add the mussels and clams and cook for 2 minutes.
• Pour over the angel hair pasta and serve immediately.