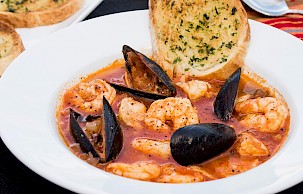 Cioppino
with Uncle Fred's Fireworks Sauce
Serves: 6
Low Carb"
Quick to make
Vegetarian
"> Gluten Free
Ingredients
• ¼ cup olive oil
• 1 large onion, chopped
• 1 large fennel bulb, chopped
• 4 garlic cloves, finely chopped
• 1 bay leaf
• 1 tsp dried oregano
• 1 tsp crushed red pepper flakes
• 1 jar La Famiglia DelGrosso Uncle Fred's Fireworks Sauce
• ½ cup water
• 1 ½ cups dry white wine
• 1 8 oz. bottle clam juice
• 1 pound skinless fish fillets, such as cod, snapper, or halibut
• 1 pound large uncooked shrimp, peeled and deveined
• 1 pound mussels, scrubbed and debearded
• salt and pepper to taste
Notes
Cioppino was developed by Italian fishermen in San Francisco. When a fisherman would return from the sea empty-handed, they would take a pot around to other fishermen, asking for whatever they could spare, and make a stew. For this reason, Cioppino can be made using crab, clams, shrimp, scallops, squid, mussels, and fish.
Directions
• Heat oil in large pot over medium heat. Add onion, fennel, garlic, bay leaf, oregano, and red pepper flakes. Season with salt and pepper.
• Stir and cook through until onions and fennel are soft.
• Add white wine and cook for 2 minutes.
• Pour Uncle Fred's Fireworks Sauce into the pot. Add ½ cup of water to the jar, tighten lid, and shake. Pour excess sauce and water into the pot.
• Pour clam juice into the pot. Stir through and bring to a boil.
• Add mussels to the pot and cover. Bring to a simmer and cook for 3 minutes until mussels open.
• Season shrimp and fish with salt and pepper. Cut fish into 1 inch pieces. Add shrimp and fish to the pot.
• Cover and cook until shrimp are pink and fish is cooked through, about 5 minutes.
• Discard any mussels that did not open and remove bay leaf.
• Serve with toasted bread.