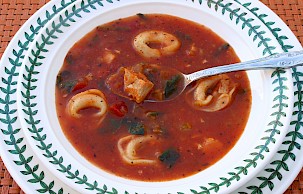 Chicken Tortellini Soup
with Aunt Mary Ann's Sunday Marinara
Serves: 10
"
">
Ingredients
3 Tbsp olive oil
3 Tbsp butter
2 cups onion, chopped
2 cups celery, chopped
3 quarts chicken stock, divided
4 pieces of chicken, approximately 6 ounces each
5 ounce bag fresh spinach
1 bag frozen tortellini (approximately 16 ounces)
2 jars La Famiglia DelGrosso Aunt Mary Ann's Sunday Marinara
1 Tbsp dried basil
- Salt and pepper to taste
Cooking chicken in stock is an easy way to cook chicken while adding flavor. You can also bake the chicken in stock, grill the chicken, or buy a rotisserie chicken from the store. Spinach can be replaced with endive. This is a great soup to make ahead and freeze.
Directions
• Season chicken with salt and pepper to taste.
• Place chicken in a small pot filled with one quart of chicken stock. Cook on medium heat for 20 minutes.
• Remove chicken, let cool, and discard stock.
• Chop fresh spinach and set aside.
• Heat oil and butter in a pan on medium heat. Sauté celery and onions until they are translucent.
• Add 2 quarts of chicken stock to the celery and onion mixture and bring to a boil, stirring occasionally.
• Cut chicken into small pieces.
• Add chicken to boiling chicken stock.
• Reduce heat and simmer.
• Add two jars of Aunt Mary Ann's Sunday Marinara and stir through. Simmer for 15-20 minutes. Stir occasionally.
• Add fresh spinach and stir through. Simmer for 5 minutes.
• Add frozen tortellini. Simmer for 5-7 more minutes until tortellini is cooked.
• Serve in a bowl and top with grated Parmesan cheese.
• Serve with your favorite bread.