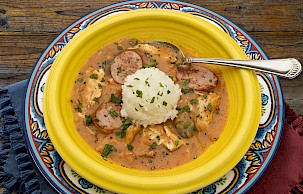 Chicken & Sausage Gumbo
with Uncle Fred's Fireworks Sauce
Serves: 8-10
Low Carb
Quick to make
Vegetarian
Gluten Free
Ingredients
• 1 cup oil
• 1 ½ cups flour
• 2 cups onions, diced
• 2 cups celery, diced
• 1 cup red bell pepper, diced
• ¼ cup fresh garlic, minced
• 3 quarts chicken stock
• 1 pound smoked sausage
• 1 ½ pounds cooked chicken
• 1 jar La Famiglia DelGrosso Uncle Fred's Fireworks Sauce
• 8 oz mushrooms
• 2 cups green onions, sliced
• 1 sprig thyme
• 1 bay leaf
• 1 Tbsp basil, chopped
• ½ cup parsley, chopped
• Louisiana hot sauce to taste
• salt and pepper to tast
Notes
*Making the roux takes approximately five minutes to get the desired thickness, and be sure to stir the entire time. Oysters are often added to this dish for a special Sunday dinner or holiday version. Shrimp and crab can also be added for a seafood gumbo. The inspiration for this dish camef from Chef John Folse of Restaurant Revolution in New Orleans, Louisiana.
Directions
• Heat oil in an 8 quart stock pot on medium-high heat. Whisk in flour, stirring constantly until a golden brown roux is achieved.
• Stir in onions, celery, bell peppers, and garlic. Sauté for 5 minutes,
• Slice sausage in ½ inch slices, and cut chicken into small chunks. Add sausage and chicken to vegetables, stir through, and sauté for 15 minutes.
• Add chicken stock, one ladle at a time, stirring constantly.
• Bring to a boil, reduce heat, and simmer for one hour.
• Skim any fat that rises to the surface.
• Add the jar of Uncle Fred's Fireworks Sauce and stir through.
• Add mushrooms, green onions, thyme, bay leaf, and basil and stir through.
• Simmer for 30 more minutes.
• Season with salt and pepper and Louisiana hot sauce to taste.
• Remove bay leaf and sprig of thyme.
• Stir in parsley and serve with rice.