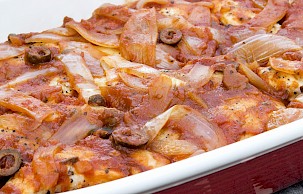 Chicken Puttanesca
with Uncle Jim's Late Night Puttanesca
Serves: 6
Low Carb"
Quick to make
Vegetarian
"> Gluten Free
Ingredients
• 4 Tbsp olive oil, divided
• 6 chicken breasts
• salt and pepper to taste
• 1 cup flour
• 1 large sweet onion, cut into wedges
• ¼ cup sherry
• 1 jar La Famiglia DelGrosso Uncle Jim's Late Night Puttanesca Sauce
Notes:
Uncle Jim's Late Night Puttanesca is a very hearty sauce, with olives, capers, mushrooms, and artichokes. You can add more of these ingredients to this dish. You can substitute marsala wine or your favorite white wine for sherry. When you cook with wine, the alcohol content cooks off, leaving the flavor to enhance the dish.
Directions
• Heat 3 Tbsp oil in large skillet over medium heat.
• Season chicken with salt and pepper and dredge in flour.
• Lightly brown chicken in skillet on both sides. Do not cook all the way through.
• Pour a small amount of puttanesca sauce to cover bottom of casserole dish.
• Place chicken on top of the sauce.
• In same skillet, add remaining oil to the pan.
• Sauté onions until soft and caramelized.
• Add sherry and cook for one minute.
• Add remaining puttanesca sauce to the onions, stir through, and cook for one minute.
• Pour sauce and onions over the chicken, cover, and bake at 350 degrees for 30 minutes.
• Serve with your favorite pasta or rice.