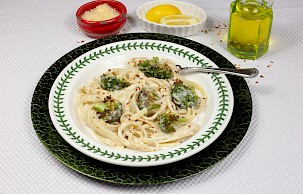 Broccoli Fettuccine Alfredo
with Aunt Linda's Classic Alfredo Sauce
Serves: 4
"
">
Ingredients
1 pound fettuccine
1 large head broccoli, cut into florets
2 Tbsp olive oil
Zest and juice of one lemon
2 Tbsp crushed red pepper flakes, divided
1 jar La Famiglia DelGrosso Aunt Linda's Classic Alfredo Sauce
½ cup pasta water
Parmesan cheese for garnish
Cooked pasta water in Italy is considered liquid gold, and is added to many dishes to help build the sauce and add flavor from the salt. To add protein to this dish, try blackened chicken or shrimp. For added color and flavor, mix in a variety of vegetables such as carrots, mushrooms, peppers, or tomatoes.
Directions
Pre-heat oven to 425 degrees.
In a large pot, cook fettuccine according to package directions, making sure to salt the water.
In a small pot, heat Alfredo sauce on low heat.
Spread broccoli florets on a baking sheet, drizzle with olive oil, then season with salt and pepper.
Roast broccoli for 15-20 minutes until slightly charred. Remove from baking sheet and transfer to a plate on a single layer to stop the cooking process.
Add lemon zest, lemon juice, and 1 Tbsp of crushed red pepper flakes to the broccoli and toss. Season again with salt and pepper to taste.
When fettuccine is cooked to your liking, reserve ½ cup of the pasta water, drain the fettuccine, then return to the large pot.
Add the ½ cup of pasta water to the fettucine. Pour the Alfredo sauce over the fettuccini and mix through, then add broccoli and stir.
Serve fettuccine on plates or pasta bowls. Garnish with remaining crushed red pepper flakes and grated Parmesan.