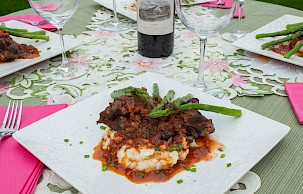 Braised Short Ribs
with Aunt Cindy's Roasted Garlic Gala
Serves: 4
Low Carb"
Quick to make
Vegetarian
"> Gluten Free
Ingredients
• 8 bone-in short ribs, approximately 4 pounds
• ¼ cup olive oil
• 2 cups chopped onions
• 1 cup chopped celery
• 1 cup chopped carrots
• 3 cloves garlic, minced
• 2 cups dry red wine
• 1 jar La Famiglia DelGrosso Aunt Cindy's Roasted Garlic Gala
• 2 cups beef broth
• 3 sprigs fresh rosemary
• 3 sprigs fresh thyme
• 2 bay leaves
• salt and pepper to taste
Notes
Braising is a process of cooking food in liquid for a long period of time. This makes short ribs and other tough cuts of meat very tender. This method can also be used to make braciole or osso bucco, two classic Italian dishes. You can add heavy cream to make a rich and creamy sauce.
Directions
• Pre-heat oven to 325 degrees.
• Heat oil in a large Dutch oven on medium-high heat.
• Season short ribs with salt and pepper. Working in two batches, brown short ribs on all sides. Transfer short ribs to a plate.
• Add onions, celery, carrots, and garlic to the same pot and season with salt and pepper. Sauté until vegetables are soft, stirring often.
• Deglaze with red wine using a spatula to scrape the bottom of the pot. Bring to a boil then simmer for 20 minutes until wine is reduced by half.
• Add roasted garlic sauce and beef stock to the pot. Stir through.
• Place short ribs into the pot until they are completely submerged in the liquid, then add the herbs.
• Cover the pot and transfer to the oven. Cook for 2 hours until short ribs are fork tender.
• Remove the pot from the oven. Transfer short ribs to a platter.
• Skim fat off the top and remove herbs.
• Serve over mashed potatoes or polenta and pour extra sauce over the top.