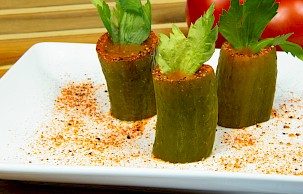 Blood Mary Pickle Shots
with Uncle Fred's Fireworks Sauce
Serves: 10
"
">
Ingredients
1.5 shots gin
1 cup tomato juice, chilled
1 Tbsp lime juice
1 tsp horseradish
2 tsp Worcestershire sauce
½ tsp celery salt
½ tsp tobasco sauce
1 tsp La Famiglia DelGrosso Uncle Fred's Fireworks Sauce
10 large whole pickles
Leafy tops of celery stalk for garnish
For the rim:
1 Tbsp old bay
1 Tbsp coarse salt
1 tsp cracked pepper
Vodka can be substituted for gin. Try other garnishes such as bacon, beef sticks, shrimp, and olives.
Directions
Mix together the first eight ingredients into a small pitcher.
Chill the Bloody Mary in the refrigerator while prepping the pickles.
Cut off the ends of each pickle so they are flat.
Slice each pickle in half crosswise and scoop out the pulp, leaving a well.
In a small bowl mix together the old bay seasoning, salt and pepper.
Dip the top of each pickle into the seasoning, then place on a serving tray.
Remove the Bloody Mary from the refrigerator and pour to the top of each pickle.
Garnish each pickle with a leafy piece of celery.