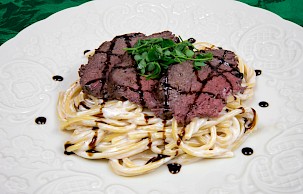 Beef Tenderloin Bucatini Alfredo
with Aunt Linda's Classic Alfredo Sauce
Serves: 4-6
"
">
Ingredients
2-3 pounds beef tenderloin
1.5 Tbsp coarse salt
2 tsp cracked pepper
3 Tbsp olive oil
12 oz bucatini pasta
1 jar La Famiglia DelGrosso Aunt Linda's Classic Alfredo Sauce
½ stick butter
- balsamic glaze
- microgreens for garnish
Beef tenderloin is the cut of beef before it is sliced into filet mignon. Most butchers will tie kitchen twine around it so it's the same thickness all the way around. The twine can stay on the tenderloin during the roasting process. Letting the tenderloin rest for 10 minutes after roasting allows the juices to redistribute, making the tenderloin juicy. Bucatini is a thick spaghetti-like pasta with a hole running through the center. You can substitute linguini or fettuccine.
Directions
Pre-heat oven to 400 degrees.
Remove beef from refrigerator and let stand for one hour to reach room temperature.
Season beef with salt and pepper.  
Heat the oil in a Dutch oven or oven-proof skillet over medium-high heat.
Brown the beef on all sides, turning with tongs.
Transfer to oven and roast until a meat thermometer reaches internal temperature of 120 degrees for medium rare or 130 degrees for medium. (approximately 30-40 minutes)
During the last twenty minutes of roasting, cook pasta according to package directions.
Melt butter in small pot and add Alfredo sauce. Mix until well-blended. Heat on low, stirring occasionally.
Remove beef from oven and let rest for 10 minutes before slicing.
Drain pasta and add Alfredo sauce, then mix through.
Serve sliced beef over bucatini Alfredo then drizzle with balsamic glaze.
Garnish with microgreens.